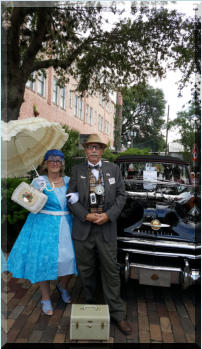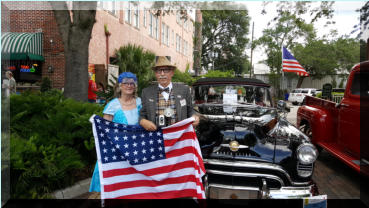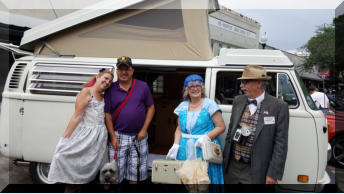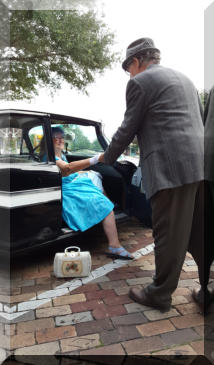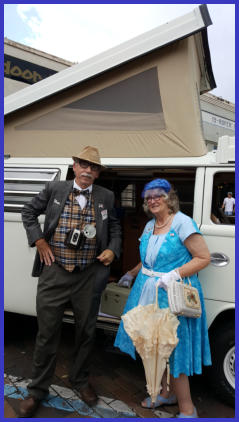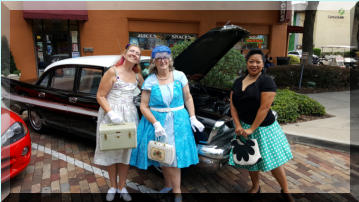 The middle of June in Winter Garden, Florida
is a beautiful place to see vintage cars on
display. We took the opportunity to meet with
a few friends and take in all the sights and
sounds of the evening. Winter Garden holds
a car show four times a year, and we were
able to take advantage of it to do some
vintage photos with some of the cars. The
car owners were very gracious to let us pose
with their cars, and one even allowed us to sit
in his car for photos.
Of course, vintage
cars go along with
patriotism. It's
always
appropriate to
show our
allegiance to our
fine country and
the heritage of
those who served
during the war
times.
Clothes from the 40's and 50's go perfectly
with cars from the same era. Candice, Fiona
and Joanie are getting ready to go for a
Sunday drive.
Phil and Candice, Ray and Joanie all have memories of Volkswagen
buses from years gone by. This one looks like it is ready for a road
trip, maybe to a rock concert or a trip across the country.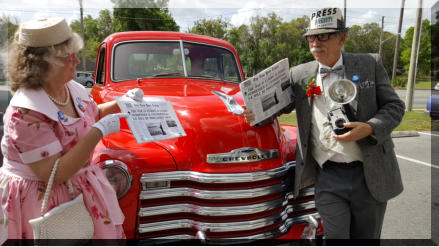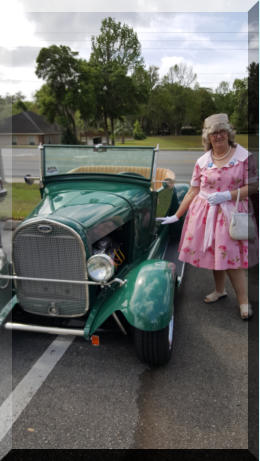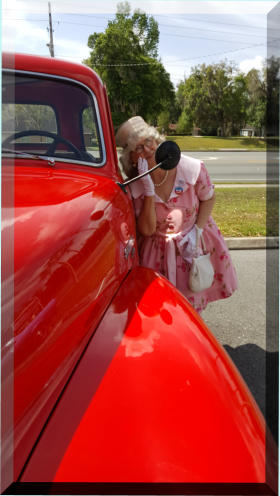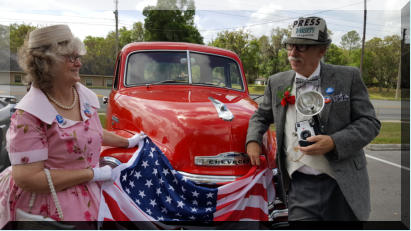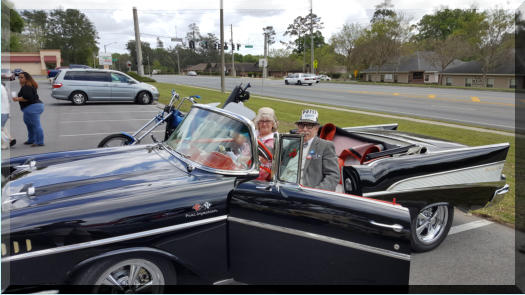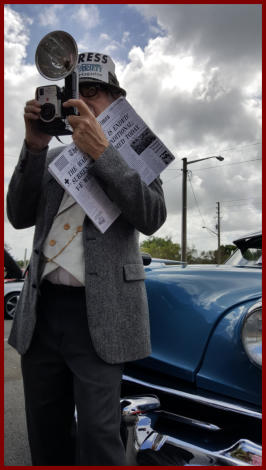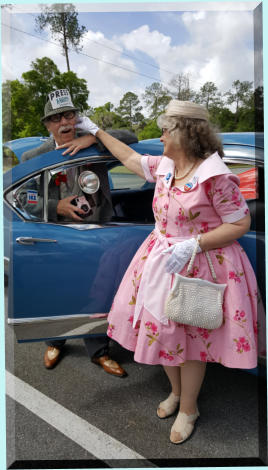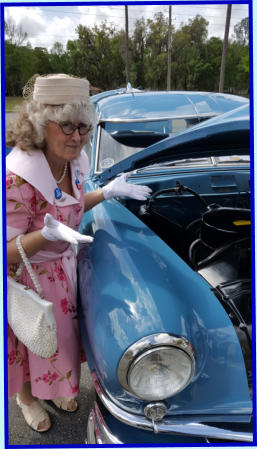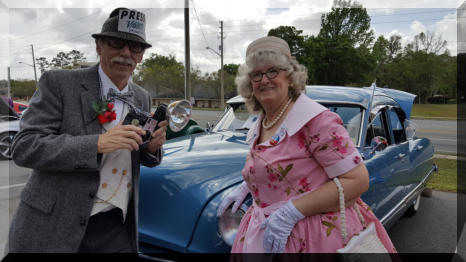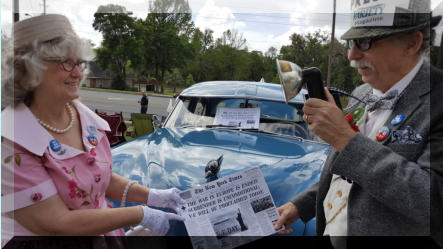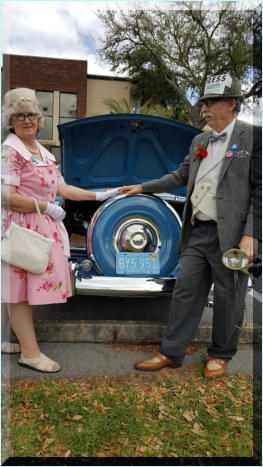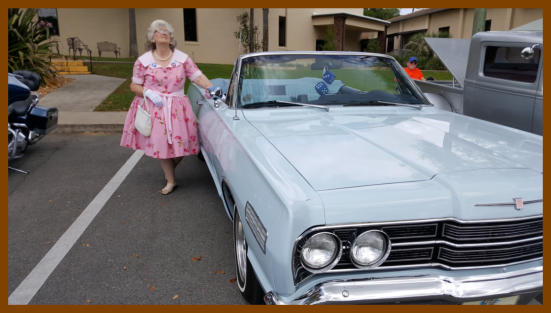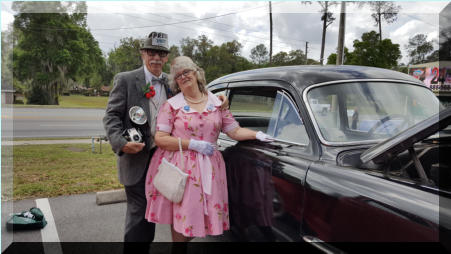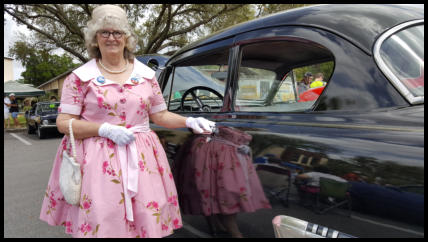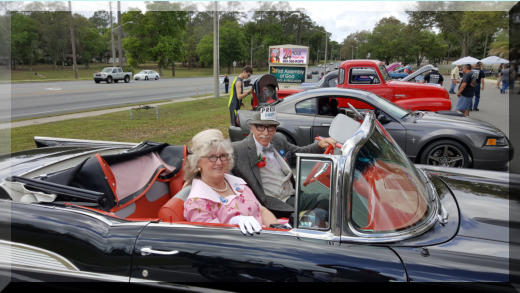 In April our local church had a car show of their own. There was quite a variety of cars and trucks on hand. The
day was warm and slightly breezy. It made for a great day to look at all the cars and maybe get some good photos,
too. Most of the vehicle owners were friendly and more than willing to let talk about their vehicles. And they
allowed us to take plenty of pictures with their cars and trucks.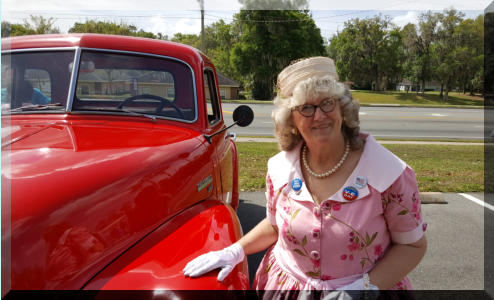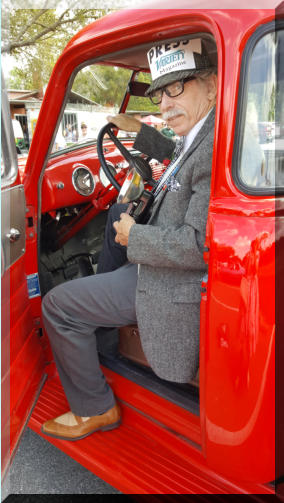 Oh, dear! Is this aging star having car
trouble? It doesn't look like she has any clue
as to what might be wrong with her car.
It seems there is alway a man from the
press following this star around. The rumor
is that she is married to him, but we never
know for sure if rumors are true or not.
They seem to be quite friendly with each
other, though.
It looks like Joanie might be
in the market for a new car.
I overheard her saying that
she thinks she looks good
riding in a sleek convertible.
We're ready to drive away in a new
convertible.
At the end of World War II, vehicles like this
truck welcomed back the troops. Patriotism
was strong in America,and we wanted to
remind people of how excited the country was
to welcome the soldiers back home to the
country they loved and fought for.
These lovebirds look like they might be heading to Niagara
Falls for a honeymoon. Their shiny new car should take them
there in style and bring them back safely.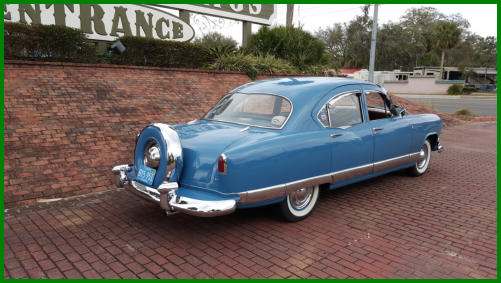 Actually this car is a Kaiser Virginian built
probably in the early 1950's. The Kaiser-
Frazer Corporation was the only successful
automaker for the first 3 or more years
after the end of WWII. They were founded
in 1945. The Kasier models were front
wheel drive, and the Frazers were rear
wheel drive, but higher end vehicles.
Basically, production of the Kaiser vehicles
was from 1946 to 1955. In 1953 they bought
the Willys company and ended up
manufacturing Jeep utility vehicles from
1956 to 1970 when they were bought out by
American Motors.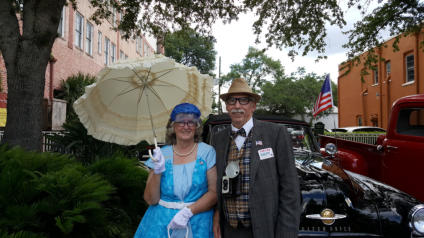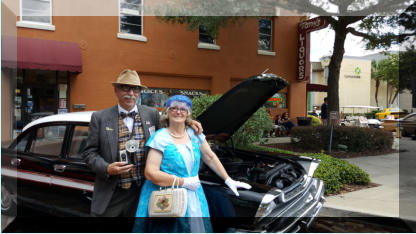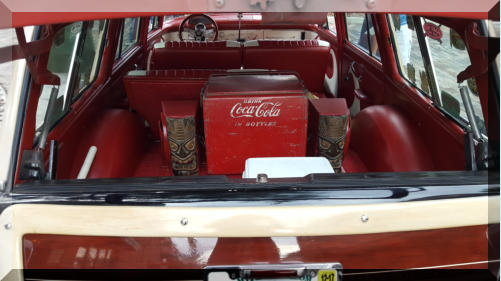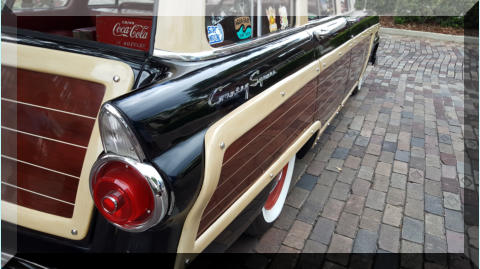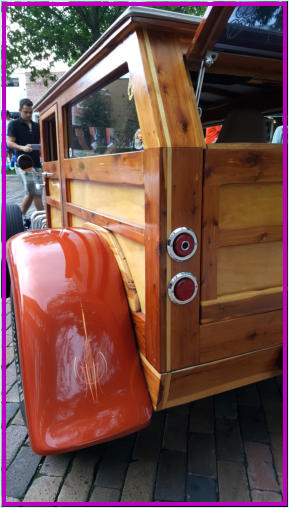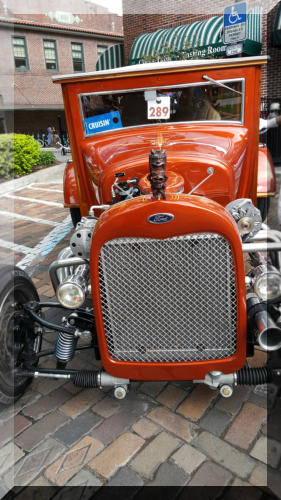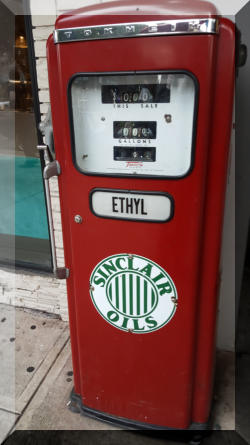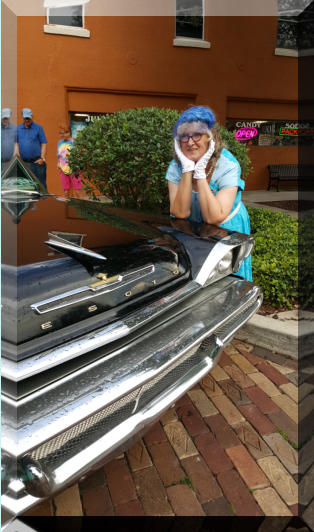 Old "woodies" as they were called, remind us of times when we were
younger. Ray's family used to take cross-country road trips in a station
wagon. Kids always wanted to sit in the back. Some station wagons had
a rear-facing back seat so the kids could sit there and make faces at the
people in the car behind them.
And don't forget to stop at the service
station and fill up the tank before leaving
on a road trip. There was no unleaded
gas back then. Gas had an octane
rating which indicated how well the gas
would perform in your engine.
Do you think this lady is waiting for
her date? Or is she just dreaming
about the next fancy car she will be
driving? Or maybe she's dreaming
about Rock Hudson. It's hard to
tell what that look is saying.
Paul Kaiser is the owner of this car. He bought the because of the
name.
Jeremy Kaiser we think is his nephew and he sent us the photo by
Silver Springs in Ocala, Florida. They are both very nice and said we
could sit in the car and take pictures. We first saw the car at the Elk's
car show in Ocala. Then again at the church car show. We hope to see
it again and get more pictures.