Dapper Style
Vintage or Dapper for the
day
Get out your best and come on out. Let the world
know who you are. You will get a lot of looks and be
asked a lot questions. Try going to a car show. Most
are once a month on a Saturday. We plan to go to
many of them. When we did the Steampunk in
Inverness, FL. they had an air show and car show at
the same time. It was fun. Dapper style is coming
back and you can be a part of it. If you need others
to show up at your event in your town just ask on
Facebook or look for a local group in your city. Go
to vintage stores - some have things going on in the
store. One store had a 1950's hair and makeup day.
1920's
A friend of ours started posting pictures of a lot of
people dressed in 1920's and 1930's clothing for a
Great Gatsby event. Most were flapper dresses. The
photos were great and we would have loved to have
been there. It was in the Washington, D.C. area. We
saw the photos and someone here said, "Let's do
that". Ok , we
have an event
in 2017 on the
calendar called
Hollywood
tower 100th
anniversary.
Start an umbrella collection
Once you start you can't stop.
Getting just one umbrella is not going to do it. You
will start looking in vintage stores or online.
"Online" they tell me is like looking in a Bell
telephone book. So now you're just going out
shopping for something simple and wow you see it!
A new old looking umbrella? Your mind is just going
crazy, should I buy it or not? Will it look good with
anything I have? If not, so what? I could always use
a new dress to go with it. Buy it! Do I need a fancy
parasol or just a simple umbrella for my outfit? Can
I add special ribbon or lace to it to make it match my
dress? I think I need a couple more!
Putting it all together
Make sure you have looked at some
old movies. We love the old movies
from the 1940's. I look at the street
scenes and check out the hats,
dresses and don't forget the shoes.
Every detail is important to complete
your look.
Hat should be on the list.
Shoes - what can I say? You have
to have shoes to match the age
you're wearing.
Jewelry, earrings and gloves always
add to the look.
Hair style for the right year.
Umbrella or parasol even if the sky
is clear.
A cane is nice for men.
Men also need to look at hats and
neckwear, like ascots, bow ties or
neck ties.
The people all dressed nice back then
and think of how hot it was in New
York City with no air conditioning. The
suits were wool and heavy. I wonder
where all the hats went? Women's
and men's hats, hundreds of them.
Where are they now?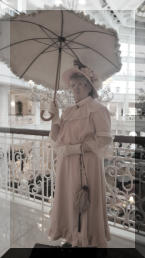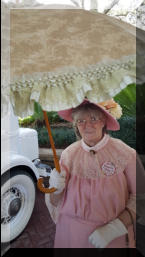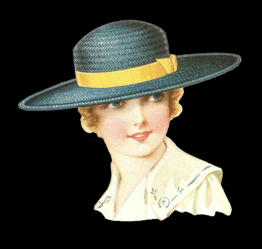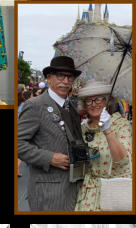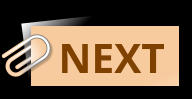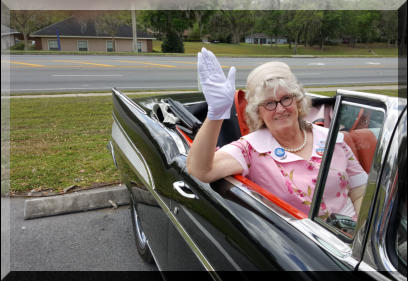 Our first Dapper Day at Hollywood Studios was a surprise to us. It
was the first time we met so many people. Marina asked us to be
on the streets of America at 11:00 am and then she pulled us out
from the group for a famous kiss on New York street. Mark Lepow
took the photo on October 3, 2015 and on March 5th 2016 they
gave us the photo as a gift. We were also celebrating our 35th
anniversary at the time. The event was called Kiss the Streets of
America Good-bye because they were going to close that part of
the park. We were so surprised and now the photo hangs in our
living room. And you know we just have to tell the story when
people come over. You just never know what will happen when
you step back in time.
Thank you all for the photo and a great time.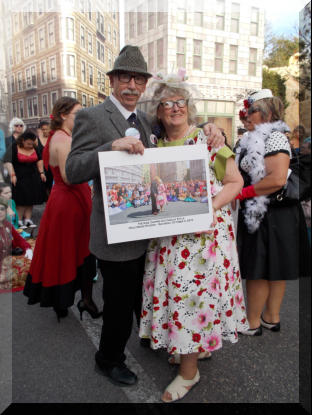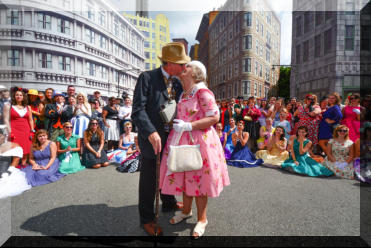 Car shows are a place a person's entire collection of clothes can
be shown off. We often go to car shows without letting anyone
know that we will be there in period clothing. People attending
the shows ask which car is ours. We just smile and say that none
of them are ours, but we like to look like we belong in the time
frame that particular car was popular.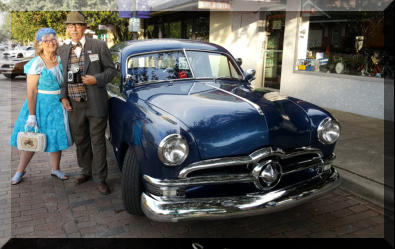 Traci has become one of our good friends. She is
very interested in drama and does a lot of acting in
her local theater group. She has invited us to a
few of the plays in the Clearwater area, but most
of the time we haven't been able to attend. Some
of our other friends live closer to the area and
have been able to see her in plays. Well, three of
us couples got together and decided to surprise
her one weekend and go to see her in Hello Dolly.
We met earlier for dinner and then all went to the
theater and sat together. One of us posted on
Facebook that we were there, and she saw the
post before the play started. She was quite
excited that we were there and that we had made
special time to see her. She is a very talented
singer and dancer and we thoroughly enjoyed
seeing her.
Custom made Bow Ties
October 2017 - Joanie found this hat online from
Winters Past. So we made the drive up to
Micanopy, FL.
She loved it right away. The dress she made in July
and the hat was just the right color for it. She
plans to were it for one of the Dapper Days
coming up.
Grand Floridian
Movie Stars