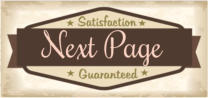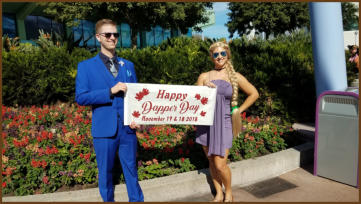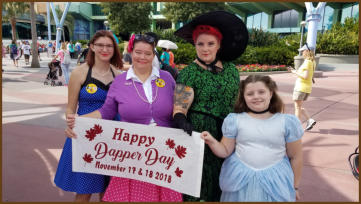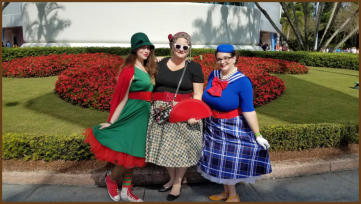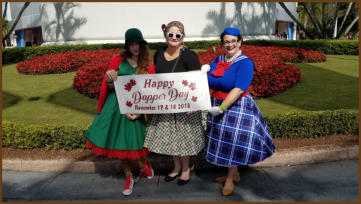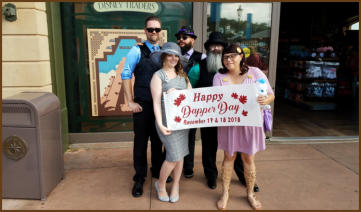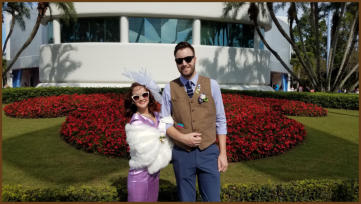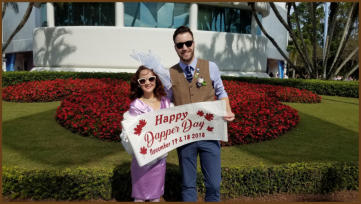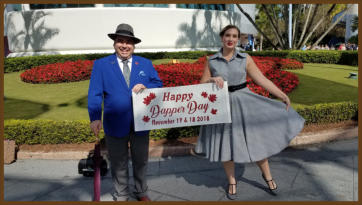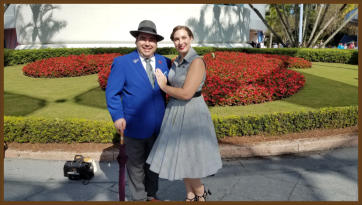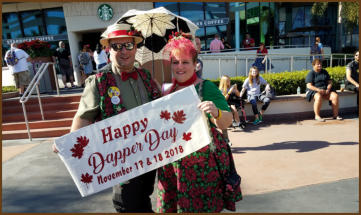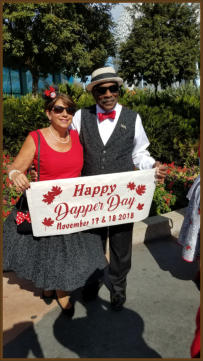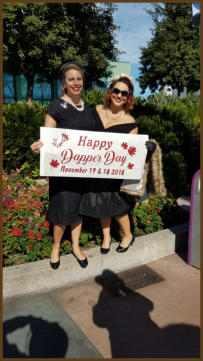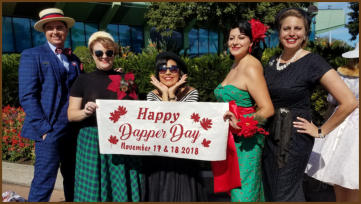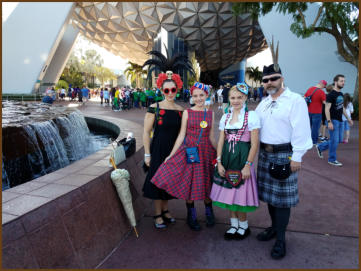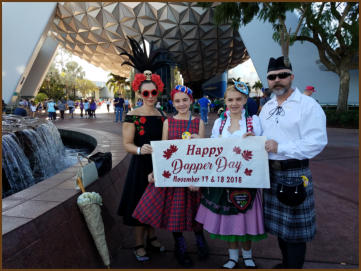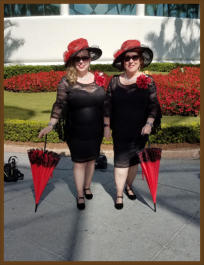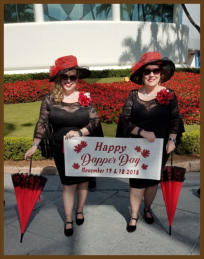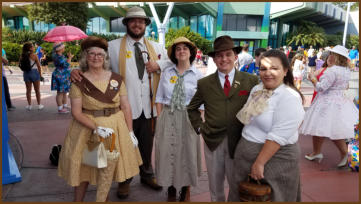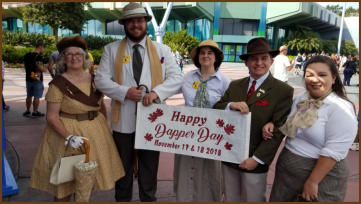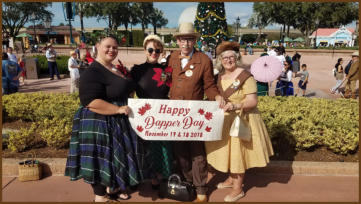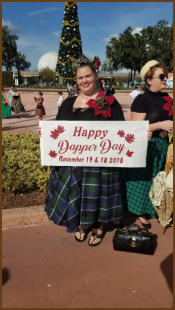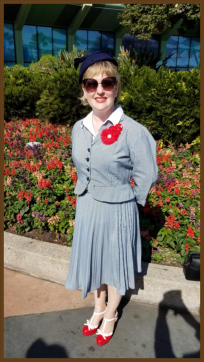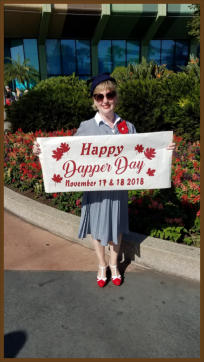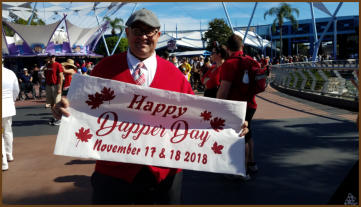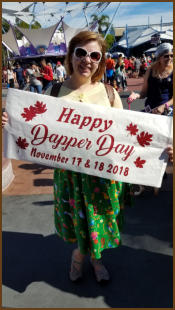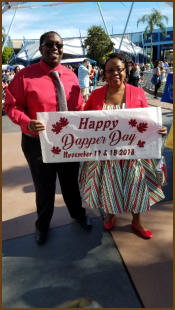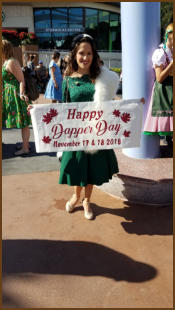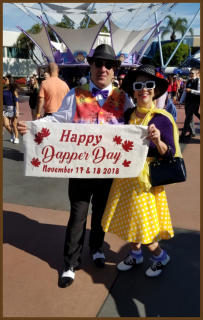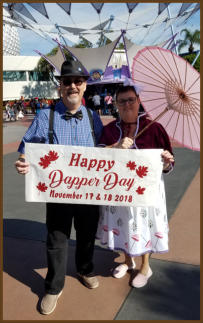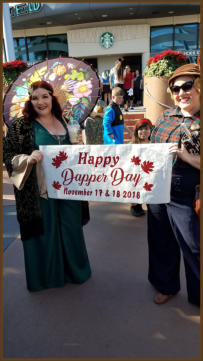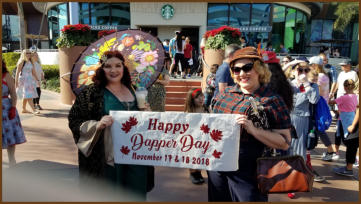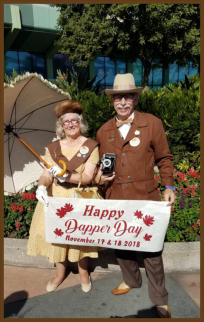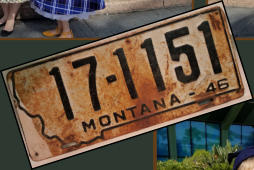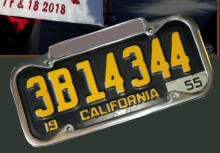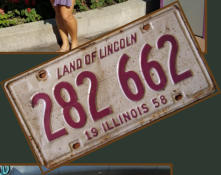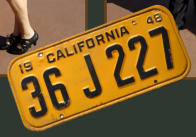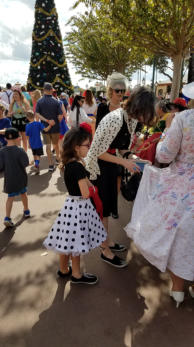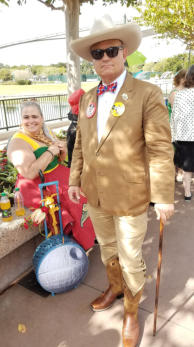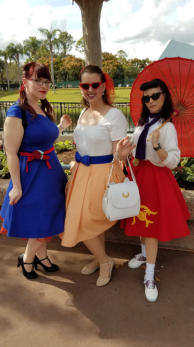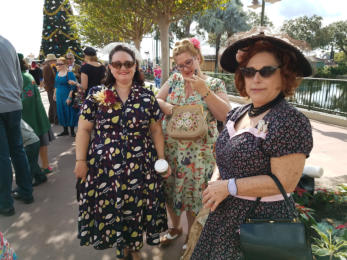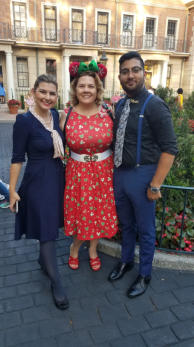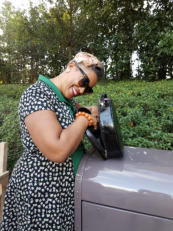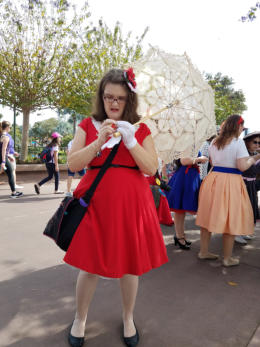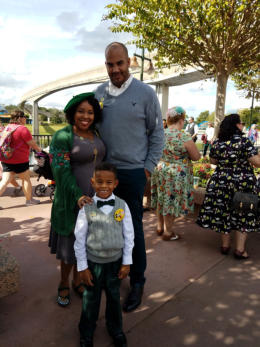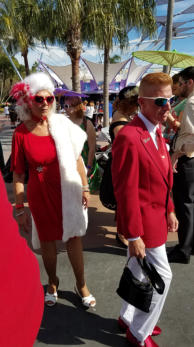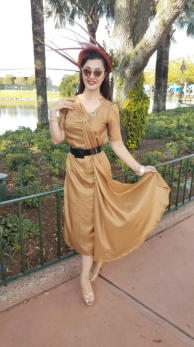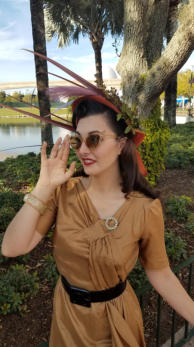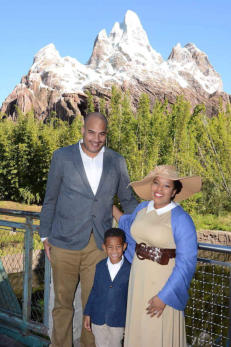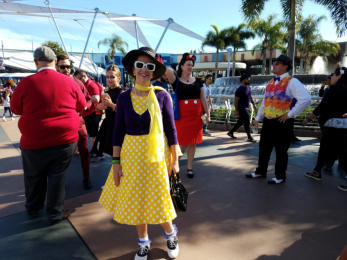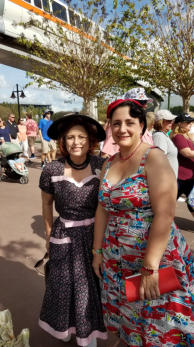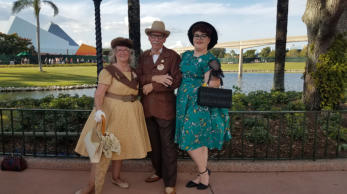 That vintage couple, Ray and Joanie
Daniel and Anne Marie always
looking dapper.
Brittany and her boyfriend look as perfect as always in their vintage attire.
The banners we make for each Dapper Day
always attract attention. Everyone wants to
have their photo with the banner
commemorating the weekend.
Laurel got her outfit from one of our favorite
vintage stores, and was told by the owner to
be sure to let us know that's where it came
from.
Mother and daughter, Jeana and Beverly,
always have matching outfits and always
look remarkable. These red and black
outfits are no exception.
Like I said, the banner always attracts attention. Sometimes we have people line up to
have their photo taken with it, thinking it is provided by the Dapper Day organization
or Disney World. When we explain that it is just a prop made by us, the apologize, but
we let them know that we don't mind them getting their photo with it, too.
It is such fun to see the variety of clothing that shows up for Dapper Day. We are also
fascinated to see the number of families who dress up together.
Epcot is a wonderful place for photos. There are
lots of places with foliage for backgrounds, and
each country in the World Showcase has unique
settings for very picturesque shots.
One very dapper country cowboy. He
even had the 10-gallon hat.
And of course, because it is late fall,
the Christmas trees are in abundance.
Anyone going to the sock hop? Poodle
skirt variations are always popular.
Many of the ladies make their own dresses and headwear. Often when we ask
about an outfit, they spend a good deal of time explaining the pattern for their
dress, they type of material and the history of their accessories.
Elyse is one of the ladies who sews her own dresses. She always
manages to find the perfect accessories to match the era of the dress.
Alexa in her Christmas colors was perfect!
Angel Marie made her outfit.
Isn't it charming?
Brad and Susan are always color
coordinated and always look
elegant.
The Fleming family went to Animal Kingdom on Saturday and Epcot on Sunday. Their stylish son is growing up so
fast, and he happily joins the family in dressing dapper. They are such an attractive family and get lots of
attention as they walk around the parks.
This group of lovely ladies are pageant queens, and they
fit in nicely with the vintage theme of Dapper Day.
It is always a joy to connect with a group of your friends
and walk the park together, showing off your lovely attire
and complimenting other groups of friends who look
equally as stylish as you do. Most of us spend time
looking at all of the details each participant has
coordinated to make their look complete.