Does this nurse have a special healing
power? Passionate Nurse is the story of a
little boy who is very sick and becomes
hospitalized with little hope of getting
better. When nurse Matilda shows
compassion on him, he finds her attention
very soothing and soon begins to improve.
Does this all end well? Come to the
theater in late September to see
Passionate Nurse featuring rising star
Anna.
She was working at a hospital in
Washington D.C. to train for her new
film.
Passionate Nurse
to be released late
this
summer, Universal said.
Rumors have been circulating
lately that there is a new film in
the works starring both the
young starlet, Anna, and the
seasoned actress, Joan. Director
John Ford has hinted that there
have been negotiations and
preliminary readings with each of
the actors in the parts they are
being slated for in the upcoming
movie, Operation Haylift. The
readings were running fairly
smoothly at the beginning. The
ladies seemed to be getting along
quite well, but according to an
unnamed source, someone described the part for Joan as an
"aging" actress, and the session quickly turned to a shouting
match. There were accusations by Joan of the younger Anna
not being experienced enough to be believable in a starring
role. Then Anna mumbled back that the aging actress role was
no stretch at all for Joan. From there, the situation got out
of control with both ladies shouting unkind remarks at each
other. At one point they got close enough to start slapping
and pulling hair. Joan yelled, "How dare you hit an older
woman with glasses?" Anna yelled back, "That's right -
OLDER." Finally Joan stormed out of the reading session.
Variety Story: She was seen at a Dapper party in Florida. Her
manager said, "She was not in hiding, but just needed time to
work on her new role for the film by Universal". She was missing
right after the reading with actress Joan for the film Operation
Haylift. Her manager said, "The reading had
nothing to do with hiding or a publicity stunt."
Is Anna Banned? The last time she tried this Warner Brothers
fired her and almost banned her from the studio. A spokesperson
from Warner Brothers said, "We cannot have someone who acts so
childishly and dances and makes silly faces at people in public.
This is not the way we expect a possible Oscar winner to conduct
herself."
Director John Ford has denied any of these rumors and
was quoted as saying that despite any minor differences,
both actresses are getting ready for the filming to
begin as scheduled. "The atmosphere on the set so far
has been congenial and we expect that we will have no
difficulty staying on schedule with the movie," Ford
said.
Despite the statement
from Director Ford, it
seems that now the
Operation Haylift film
has been put in the
scrap heap and will not
be filmed at all. MGM
said "NO comment". They
said the filming has
been set to start soon
on Break-Through, a
new WWII action film. Instead, the actresses are being slated to
star in a more non-age specific war movie in which the two will
have parts that do not reference anything about age. The new
movie, Break-Through, is set in Europe in World War II. Few
other details are available about the movie at this time, but
insiders say that so far the actresses are congenial during the
few times they are in the same vicinity on or near the movie
set. Each actress is supposed to be portraying the wife of a
young military man in the Army during the invasions of WWII.
According to inside sources, the women will be adding their own
interpretations of how the wives supported their men while
they were gone to war. Imagine these two ladies baking cookies
and rolling bandages to send to their husbands. Cookies
arrive in crumbs and the rolled bandages become attachments
to the men's uniforms rather than being used by the medics.
And the letters from home are so censored by the government
that the men have to guess as to what the ladies are telling
them. Sometimes the results are far from true, but it offers
the men some comic relief from the daily grind.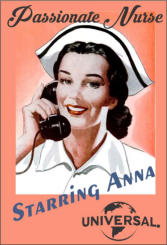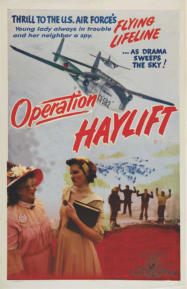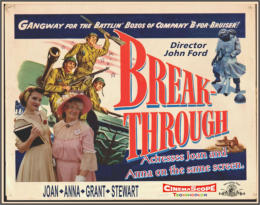 HOT
Missing actress Anna found.


Have Hollywood news
call us at GL2685 (collect)
MOVIE STARS PARADE Can John Ford pull this one
off? MOVIE STARS will be right on top of this
Hollywood story. We did get word from Universal
that they plan to steal Anna from MGM. When we
asked Joan about the news she said that she has
not heard anything about it but if Universal signs
Anna it will be a contract full of trouble. "Good luck
with that!" she said. Joan has a 5 year contact with
MGM and has no plans to leave. Joan's secret husband
for 5 years said "Why spend the new CinemaScope
Technicolor film on Anna? Black and White will be
just fine for her".

Photos acquired by our own
photographer
Things got worse in front of the press after the reading. Variety
photographer got the photos from actress Joan's husband on an
undisclosed deal. Her photographer husband was secretly married to
her for years. Variety just got that story last year. Read it on our
movie stars news. We think Joan's husband would like to make actress
Anna look as bad as he can. But we see actress Joan not being so nice
herself. So who is misbehaving now? The hair pulling was one thing
but the hitting started when actress Joan said that she was on the
cover of Variety many times before Anna even started acting. At
that point actress Anna started swinging at the elder actress.
After the incident the press questioned both actresses. Each was
reluctant to speak negatively about the other. They were back to
being lady-like and dignified as is expected of a star. Keep
checking Variety for all of the up to date Hollywood stories.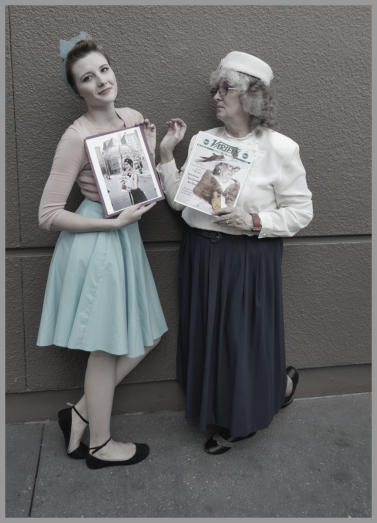 Photo taken before the reading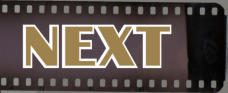 Movie Star Actress Joan now has her paper doll collection out in stores
You can now dress her in all
of her Oscar winning dresses.
See her commerical here
just click on Actress Joan.