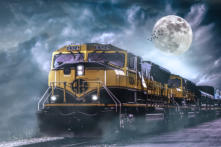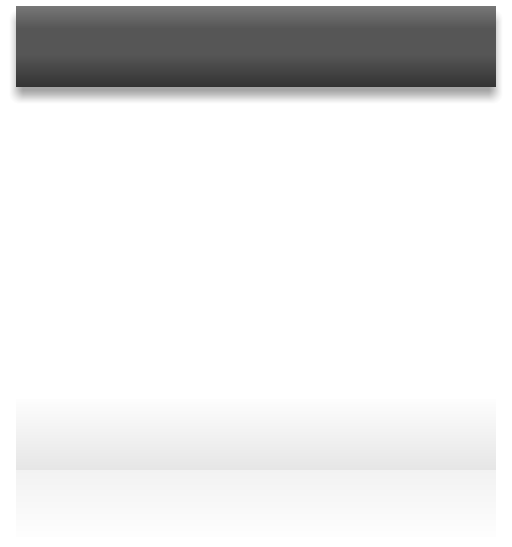 welcome to the
1950's
The Great Tavares Train
Takeover
Our friends dressed like the
1950's
We all came out on a very nice day. We
were even were given our own train
car. We took the train from Tavares to
Eustis to Mt. Dora. We got off at Mt.
Dora for the afternoon and then got
back on the train for a ride back to
Tavares.
Mt. Dora
Everyone said let's do it again. So people that saw it on
Facebook said they would love to do the train ride. They
plan to get more train cars soon.
Mt. Dora is a very old town that has lots of shopping. But
we had lunch at a German restaurant. Others ate at an
English restaurant. We got some pictures around town and
we also got some curious looks. People would ask us what
the event was. We also checked out some very nice tea
houses. We plan to have high tea someday.
We made some train trivia games for those attending to
play on the train.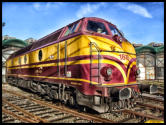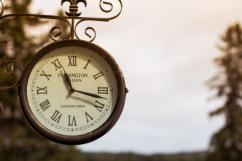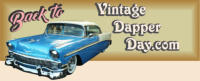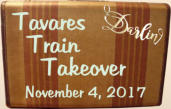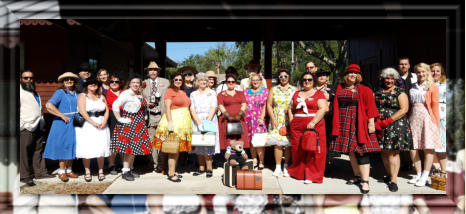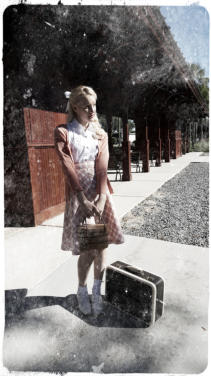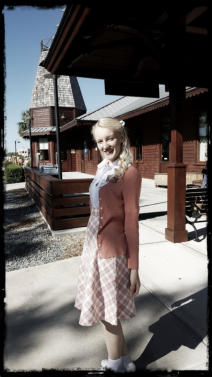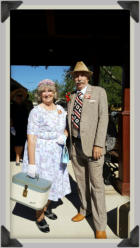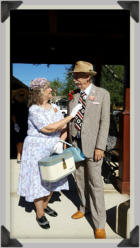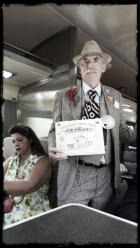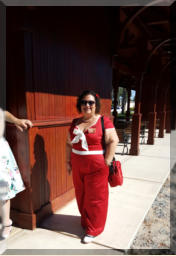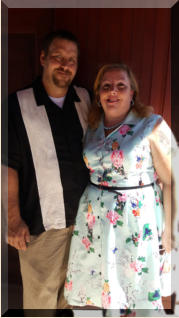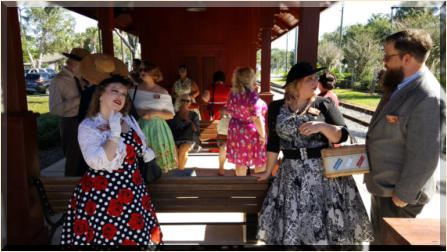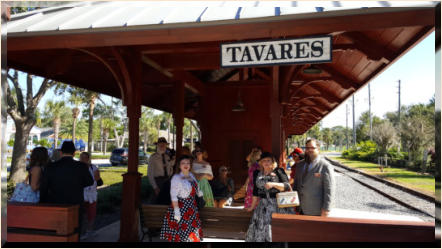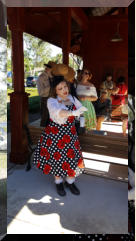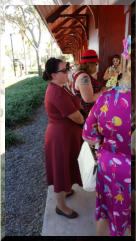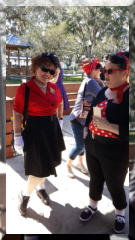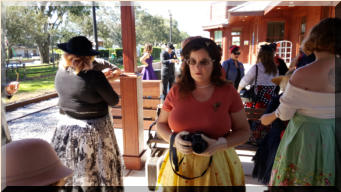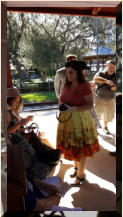 Waiting can sometimes be the hardest part of the journey. The train
ran a little late, as is common with train travel. But the day was warm
and lovely and none of the guests minded much. We had allowed
plenty of time in our schedule to give everyone time to take the train,
stop in Mt. Dora for lunch and some casual shopping and still make it
back at a good time. Some of those who attended had to drive back to
Tampa and other places south of the Orlando area, but no one seemed
to mind making the drive.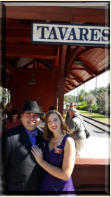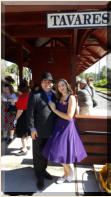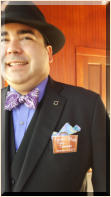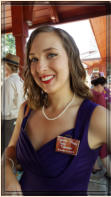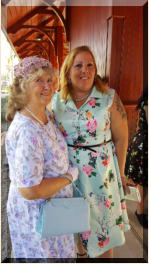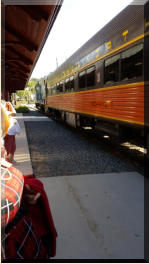 Daniel and Anne Marie are still newlyweds, and love doing a variety of
activities. We enjoyed their company throughout the day. He is a world
traveler, and she is beginning to share in his travels. Update the year 2020
they now have a baby girl.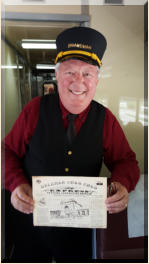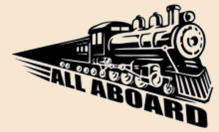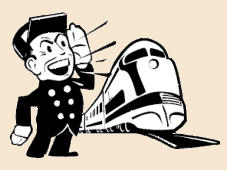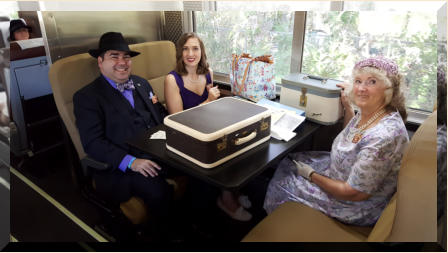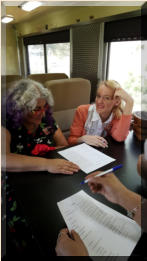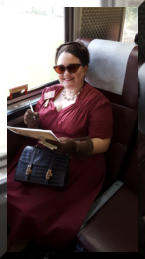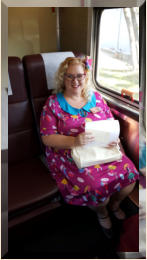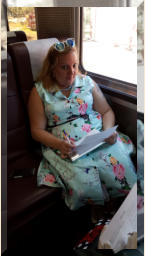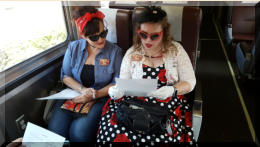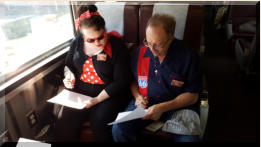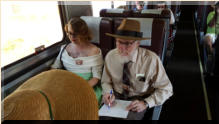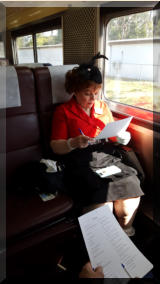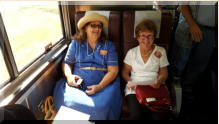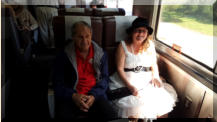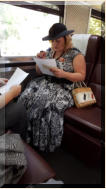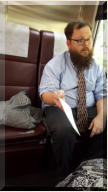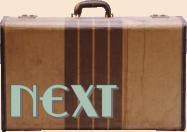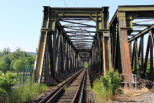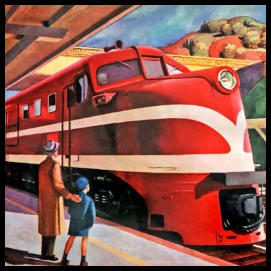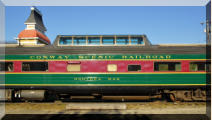 As you can see from this photo, the event was well attended. We were
expecting about 32 people, but a few had to drop out at the last minute.
This was a good- sized group, and everyone had a great time.
Miriam was the youngest of the group who attended this event. She went
to special effort to make her outfit perfect for the era. Doesn't she just
look like a teen taking her first train trip by herself?
This older couple is taking a trip to see
their grandchildren in another state.
They look like they are anticipating an
exciting trip.
There was a commemorative
newspaper made for this
beginning journey for the
"new" train.
You can see that all of those who attended made every effort to
dress in the era of the train. All of the vintage outfits looked perfect.
Crystal is Joanie's "Disney daughter" and they always have to have a
photo together. This started the first day they met. They have many
common interests including sewing and baking.
This train was so sleek. We loved the look of it and how well we all
matched the vintage look of it.
The conductor loved us, and joined right in with the fun. He gave us
some trivia about the train and the area in which we were traveling. And
of course, he got a kick out of the "newspaper article" we had with us and
all the trivia in our games. He treated us well.
Finally we got to board the train and off on our adventure. Don't
these travelers look like they are ready for an adventure?
Does it look like these passengers are writing letters home? They're
not, really, They are trying to answer train trivia questions that we
gave them for the trip. Some were very easy and some were difficult,
but almost everyone took part in the "quiz" and learned some things
along the way.
There were so many dignified and gentile ladies on the train. This was
the era when ladies were ladies and men were men. All of those
attending did their best to conduct themselves as passengers would
have in the 1940's and 1950's when this train was regularly scheduled for
runs like this.
Ah, the era when trains were a common mode of travel! Life was
slower then, and transportation just felt more elegant. It is fun to look
back on this time in America, and to enjoy the different pace from the
hustle and bustle that we live in now. The romance of train travel has
been lost for a while, but we hope it will never fade entirely. We're
looking forward to a renewed love of this transportation by the
generations to come.